According to the new Canadian Immigration Levels Plan 2023-2025, Canada plans to increase its immigration targets yet again. On November 1, 2022, Immigration Minister Sean Fraser announced a plan to welcome nearly 1.5 million new permanent residents over the course of three years.
As we have seen in past immigration plans, Canada is planning for higher targets to increase each year. In 2023, Immigration, Refugees and Citizenship Canada are targeting 465,000 newcomers, up to 485,000 in 2024, and 500,000 in 2025.
One way to help Canada's demographics is through policies that encourage immigrants. The workforce is aging, and not enough babies are born here to keep up with the growth. Therefore, Canada needs new immigrants to maintain a strong economy.
| Category | | 2023 | 2024 | 2025 |
| --- | --- | --- | --- | --- |
| Permanent Residents | | 465,000 | 485,000 | 500,000 |
| Economic | Federal High Skilled | 82,880 | 109,020 | 114,000 |
| | Federal Economic Public Policies | 25,000 | - | - |
| | Federal Business | 3,500 | 5,000 | 6,000 |
| | Economic Pilots: Caregivers | 8,500 | 12,125 | 14,750 |
| | Atlantic Immigration Pilot Program | 8,500 | 11,500 | 14,500 |
| | Provincial Nominee Program | 105,500 | 110,000 | 117,500 |
| | Quebec Skilled Workers and Business | To be determined | To be determined | To be determined |
| Total Economic | | 266,210 | 281,135 | 301,250 |
| Family | Spouses, Partners and Children | 78,000 | 80,000 | 82,000 |
| | Parents and Grandparents | 28,500 | 34,000 | 36,000 |
| | Total Family | 106,500 | 114,000 | 118,000 |
| Refugees and Protected Persons | Protected Persons in Canada and Dependents Abroad | 25,000 | 27,000 | 29,000 |
| | Resettled Refugees - Government-Assisted | 23,550 | 21,115 | 15,250 |
| | Resettled Refugees - Privately Sponsored | 27,505 | 27,750 | 28,250 |
| | Resettled Refugees - Blended Visa Office-Referred | 250 | 250 | 250 |
| | Total Refugees and Protected Persons | 76,305 | 76,115 | 72,750 |
| Humanitarian and Other | Total Humanitarian & Compassionate and Other | 15,985 | 13,750 | 8,000 |
Are you ready to get started, or not sure which option is best for you?
Get started
So what does this actually mean?
If all goes according to plan, Immigration, Refugees and Citizenship Canada will establish a new record in 2023 by welcoming 465,000 newcomers. If so, that would mean that Canada has surpassed its 1913 record of 400,000 new permanent residents for the third year in a row.
It's also very different from what we've seen in previous years. Typically, Federal High Skilled workers are the largest source of newcomers through programs like Express Entry; however, this plan is increasing the importance of regional immigration programs like PNP. The Provincial Nominee Programs will welcome the highest number of new permanent residents each year over the next three years, according to the 2023-2025 levels plan.
Minister Fraser indicated that Express Entry will allow for 305,820 new immigrants as well as begin to use targeted draws to attract newcomers to regions in need of immigrants.
The Canadian government continues to demonstrate its commitment to family reunification. From 2023-2025, IRCC aims to admit many family-class immigrants; 240,000 spouses, common-law partners, and dependant children, as well as 98,500 parents and grandparents.
The Atlantic Immigration Program will welcome 34,500 newcomers along with 35,370 Caregivers; Agri-Food; Rural and Northern workers.
Immigration, Refugees and Citizenship Canada is also planning to welcome 225,170 Refugees and Protected Persons along with 37,735 Humanitarian and Compassionate Considerations newcomers.
Why does Canada need so many new immigrants?
Maintaining a strong economy is one of the primary reasons Canada welcomes high levels of immigration.
Canada's rapidly aging population, with one of the world's oldest populations and one of the lowest birth rates, has created a situation where Canada's population is not replacing itself.
This causes economic and financial strain. Canada's low rate of natural population growth results in a minimal labor force and economical expansion.
As the birth rate in Canada falls and is likely to fall further due to economic uncertainty caused by the pandemic, Canada will become increasingly dependent on immigrants for population and economic growth.
Without strong economic growth, it becomes more challenging for Canada to bring in the revenue required through taxes to pay for social expenditures on programs such as education and healthcare. These services are important not only because they improve the quality of life, but also because they contribute to maintaining high living standards overall in the country.
Because of this, Canada has been raising the number of immigrants it accepts since the late 1980s in order to help speed up its rate of population, meaning more workers which helps with economic growth. Now, immigration is responsible for most of Canada's population and labor force growth as well as a large part of its economic development. On a per capita basis, Canada welcomes three times more immigrants than America.
In 2030, 9 million baby boomers in Canada will reach the retirement age of 65. With fewer workers and increased social spending on health care, Canada has raised its immigration targets for over 30 years now to proactively alleviate this challenge.
Immigration is an important process for Canada because it helps to maintain a strong economy. The country has been welcoming high levels of immigrants since the late 1980s in order to help with population growth and economic development. In 2030, 9 million baby boomers will reach retirement age, which will create more strain on the economy. To alleviate this challenge, Canada plans to welcome 1.4 million new permanent residents in the next three years.
We hope our post on the new Canadian Immigration Levels Plan 2023-2025 was helpful! If you are interested in finding out how you can immigrate to Canada, get in contact with us today!
---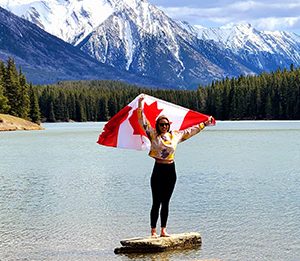 Nicola Wightman is a regulated Canadian Immigration Consultant (RCIC) under the College of Immigration and Citizenship Consultants (CICC). Her professional immigration consultant number is R706497.
Canadian immigration
Learn about moving to Canada, the Express Entry immigration process, working in Canada, studying in Canada, and more.
READ MORE
January 5, 2023
If you've been working in Canada under a Post Graduate Work Permit (PGWP) for the…
November 4, 2022
The Canada parents and grandparents program 2022 is for non-Québec Canadian citizens and permanent…
October 28, 2022
If you're wandering how to make friends in toronto, you've come to the right place.…
Are you ready to get started, or not sure which option is best for you?
We will assess your eligibility for all of the Canadian immigration programs necessary and determine the most suitable option for you.
"*" indicates required fields